LOOP
Loop disinfection systems are focused on enabling the normal operation of the companies in COVID-19 crisis and future pandemics
Loop is configurable to your specific company operation and country regulations
Loop is based on an innovative pulverization system with a small drop size (100 μm):
 – Can be used with different biocides against COVID-19 and other virus
 – Easy to operate and suitable for different uses
 – Disinfection of surfaces and spaces
 – Presented in two different configurations: trolley and backpack
 – Developed and manufactured in Spain
Loop has three different disinfeciton systems: portable, standard and airline LOOP
Loop believes in innovation, continuous development and cares for environmental concerns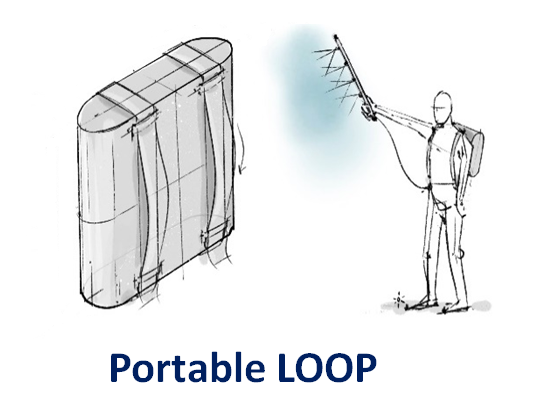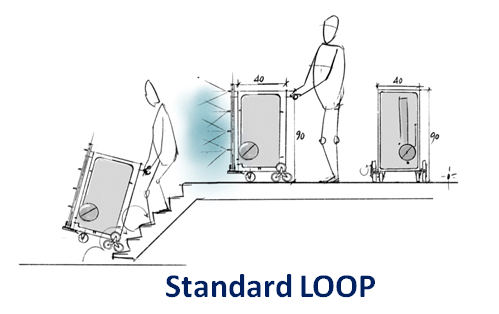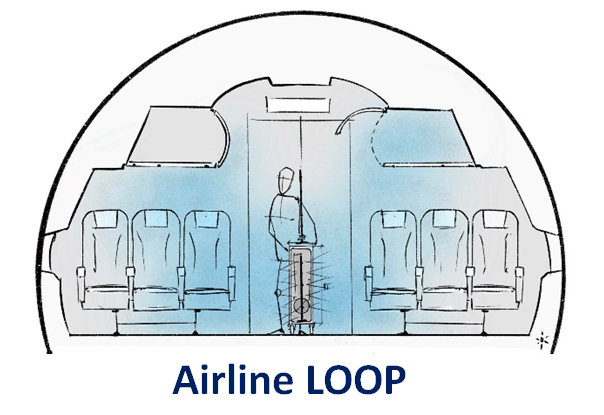 Characteristics 
Portable pulverization system

Drop size: 100 μm

Two operation modes:

Disinfection using the removable stick  (Portable and Standard Loop)

General disinfection with stick on trolley  (Standard and Airline Loop)

Autonomy: up to 15 liters

Maximum spray range: 1.70 m

Electric consumption: 80 W

Power supply:

General electrical grid

Fast charge batteries (optional)
 Design, fabrication y assembly
Your company, our commitment
Loop Disinfection commitment is to cover your company disinfection needs to restore customer confidence 
World Health Organization, EASA & IATA
Our system follows World Health Organization, EASA and IATA  health recommendations in surface sanitations
The system is compatible with international approval surface disinfection products (EN-14476), providing flexibility to airline companies  
Design & Manufacturing (DOA &POA)
Airline Loop design & fabrication are based on aviation standards enabling full integration in your carrier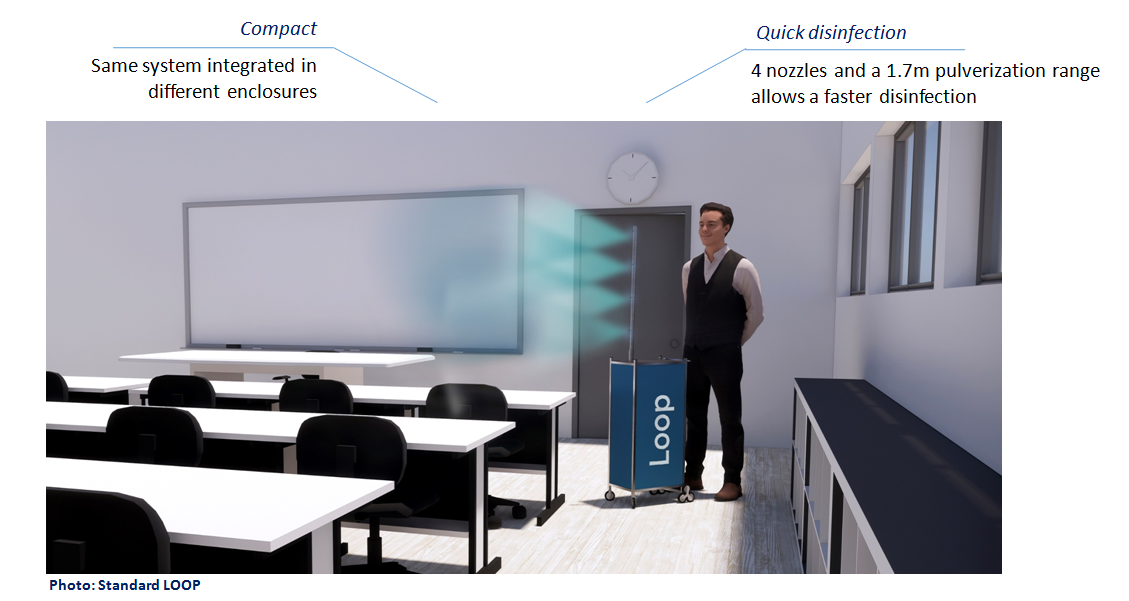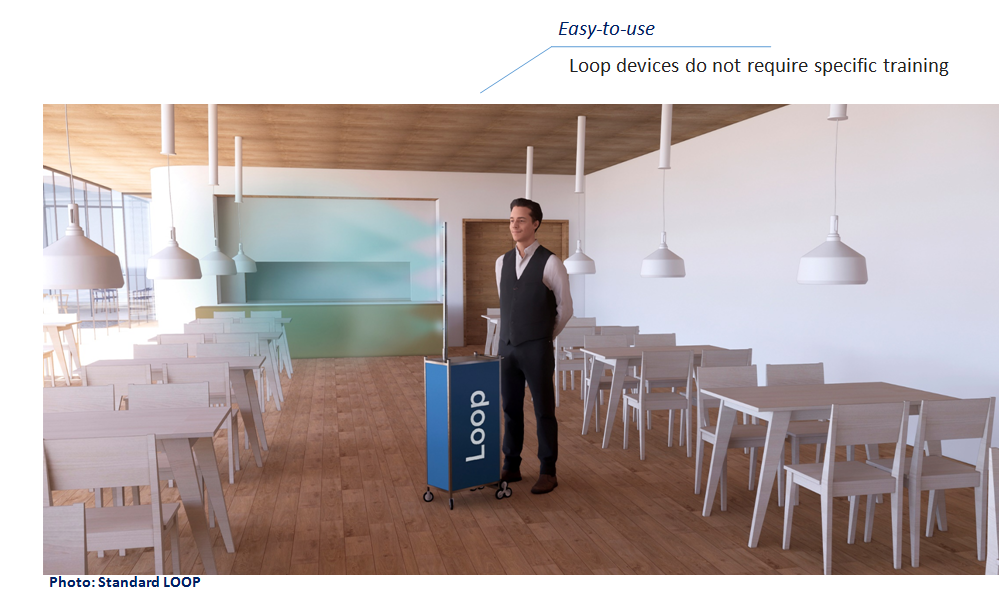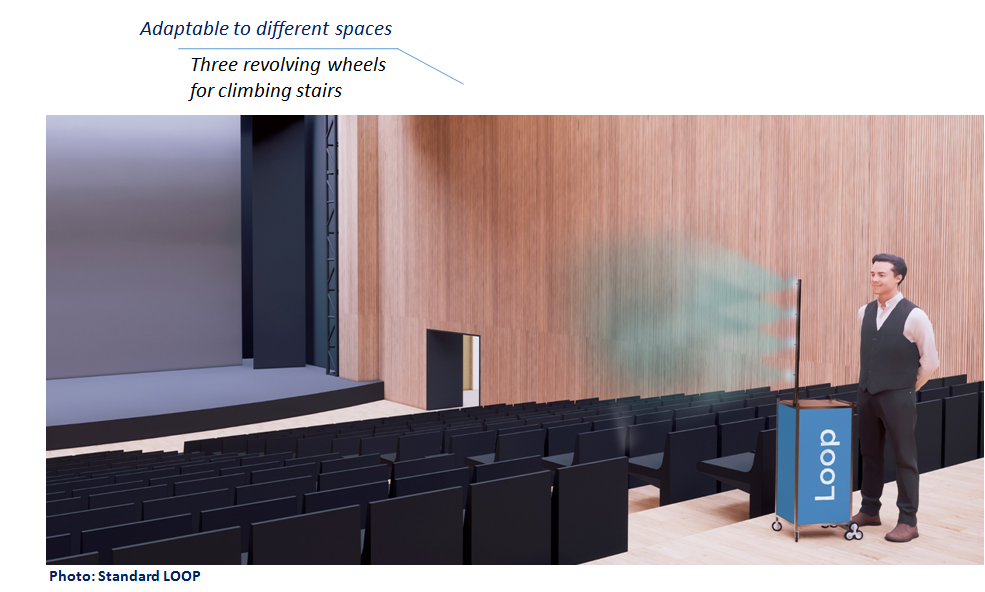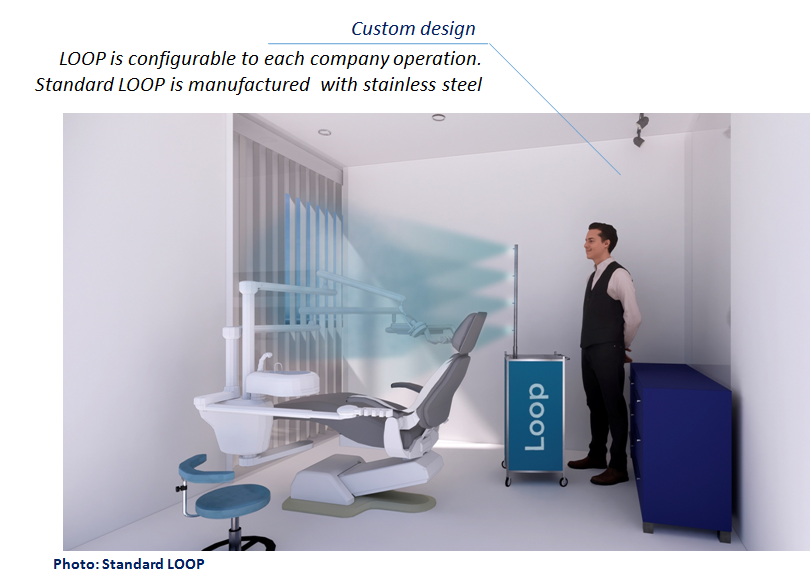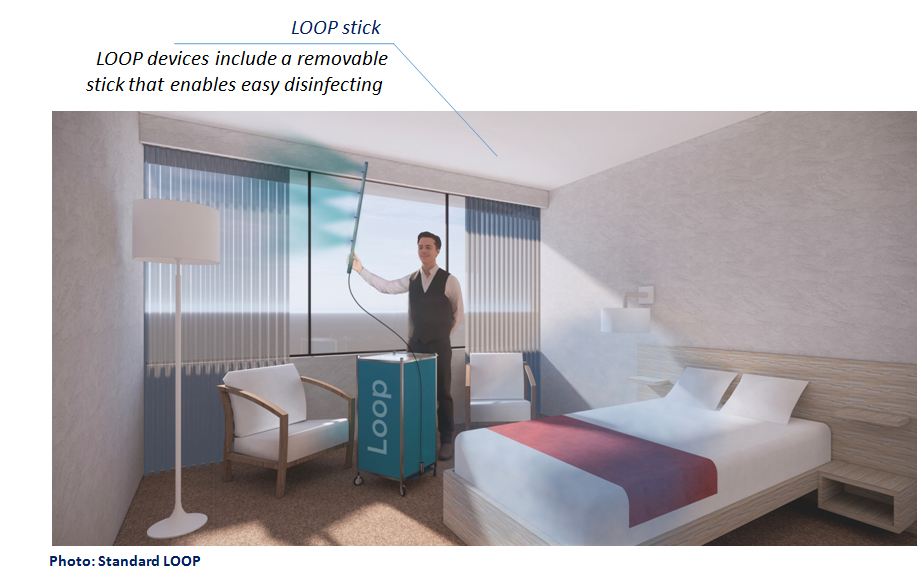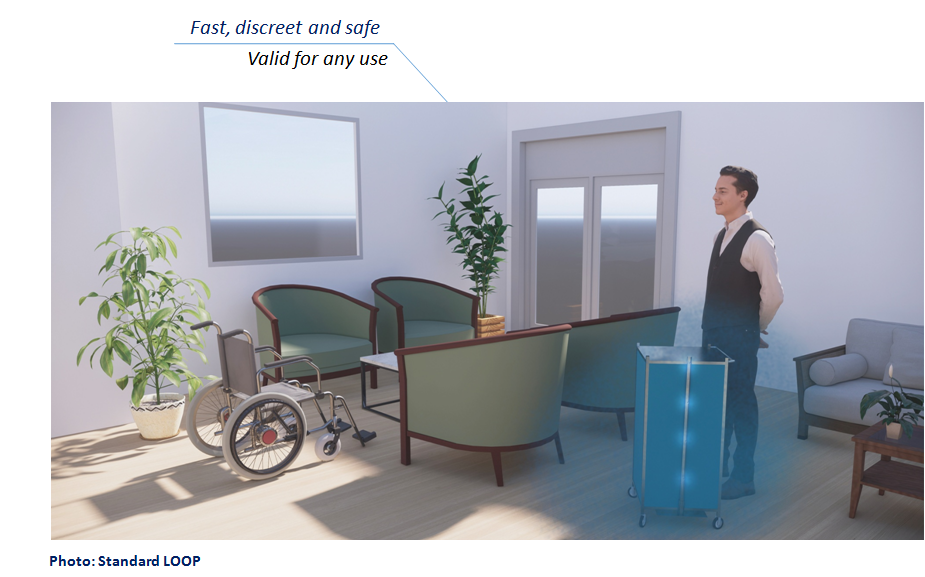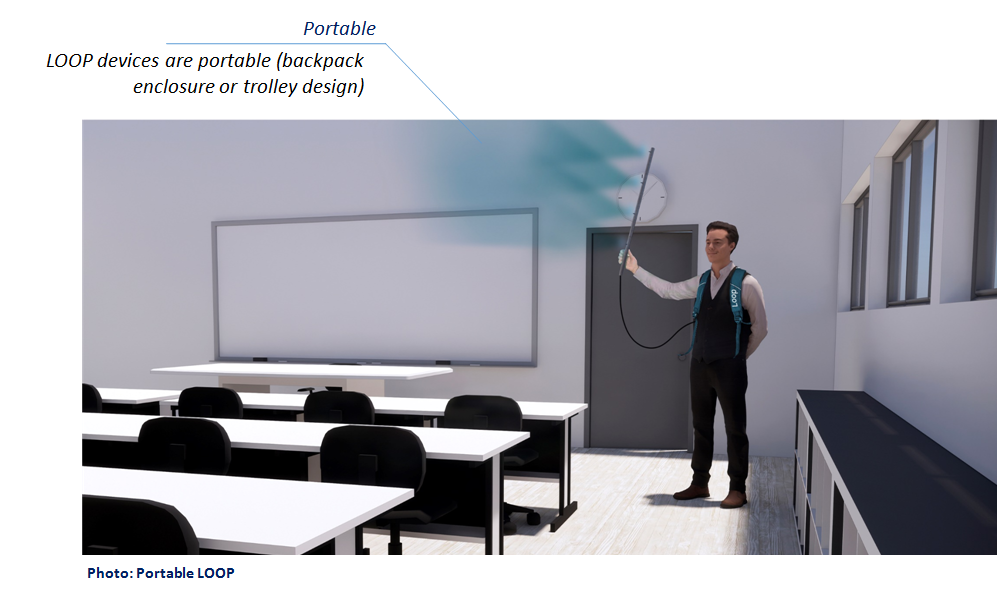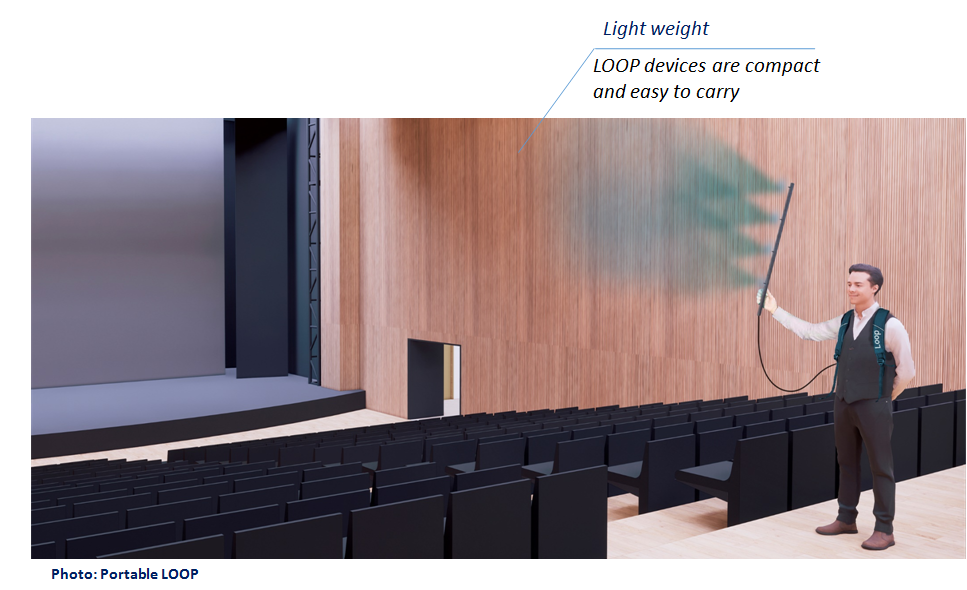 ÚLTIMAS NOTICIAS 
06/08/2020 – IBERIA utilizará los sistemas de desinfección de LOOP para la limpieza profunda de sus aviones  //  IBERIA will use LOOP's disinfection systems for deep cleaning of its aircraft:
https://grupo.iberia.es/news/06082020/iberia-aplica-nuevas-soluciones-innovadoras-y-sostenibles-en-la-limpieza-e-higienizacin-de-sus-aviones?ref=Home
10/07/2020 – LOOP presenta el nuevo sistema de desinfección PORTABLE LOOP. Consiste en una mochila ligera y eficiente diseñada a medida para que el operario no cargue con un peso excesivo de forma que no sufra lesiones cervicales. La mochila cuenta con una funda de tejido sostenible con certificación OEKO-TEX Standard 100  //  LOOP presents the new PORTABLE LOOP disinfection system. It is a light weight backpack specially designed by LOOP to prevent the user to carry an excessive weight. The cover of the backpack is manufactured with OEKO-TEX Standard 100 textil certified.
15/06/2020 – LOOP presenta el nuevo sistema de desinfección STANDARD LOOP. El nuevo carro se fabrica en aluminio o en acero inoxidable y sirve para aplicaciones en las que se necesita un mayor desplazamiento del mismo, como en hoteles, auditorios, universidades o colegios, y para aquellas en las que la higiene es especialmente crítica, como en hospitales, residencias, etc.  //  LOOP presents the new STANDARD LOOP. It is a trolley specially designed by LOOP, it can be manufactured in aluminum or stainless steel. It is recommended to be used in hotels, auditoriums, universities or schools. It is also recommended in sanitation facilities such as hospitals, dental clinics, nursing home, etc.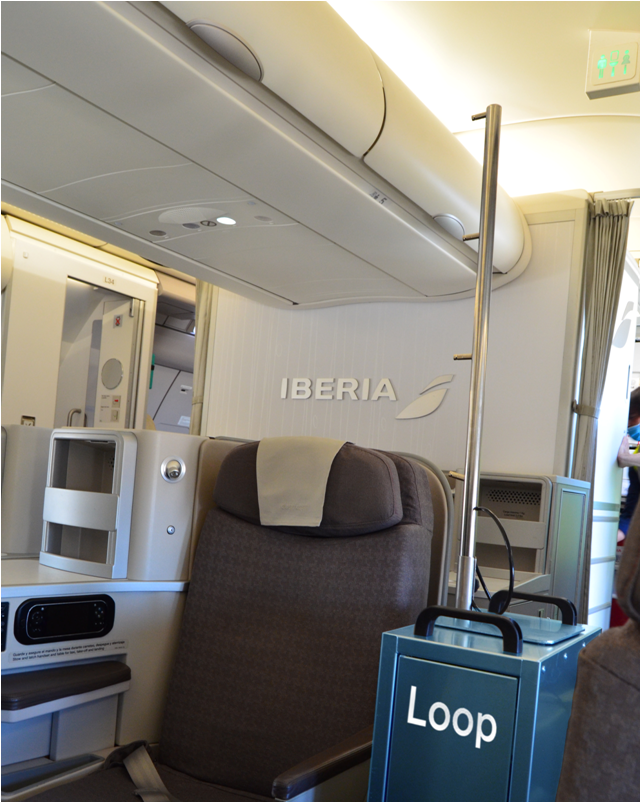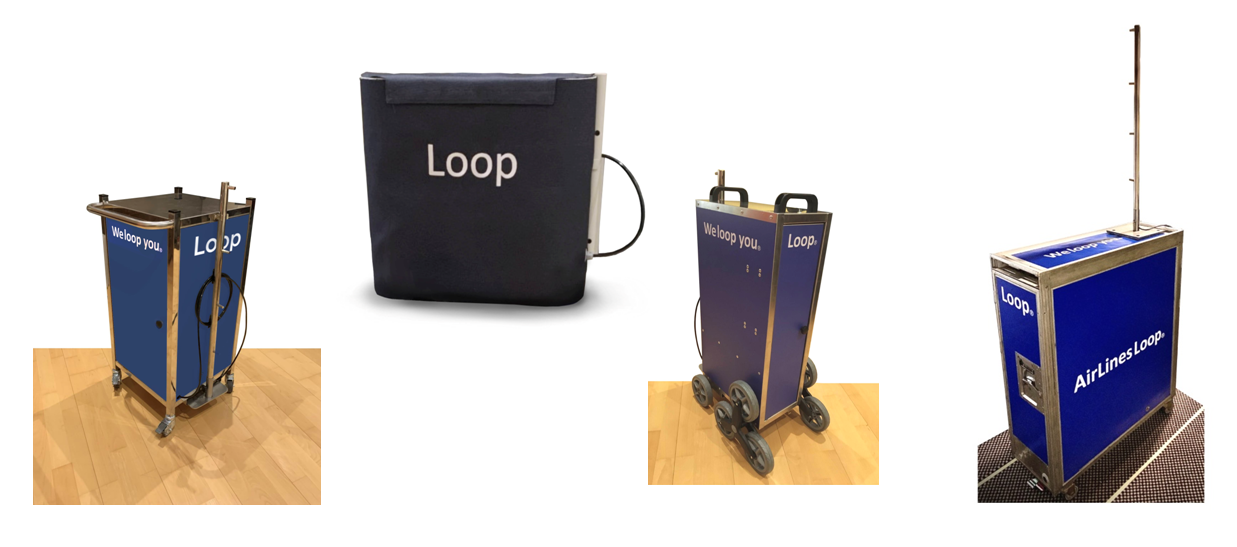 Copyright©2020 Loop. All rights reserved